MODEL PORTFOLIO
Portfolio Update
January 1, 2000 - March 31, 2012
This past year was a another difficult one after a huge decline in 2008 and small gains the previous two. The graph shows that we are still considerably ahead of the S&P 500 since we started tracking. We continue to put more space between our portfolio and the S&P 500. A $1,000 in our hypothetical Model Portfolio is now worth $3,869 compared to a like amount invested in the S&P 500 which has increased to only 1,257. We fully expect this year to continue to bounce back for us, with gold mining shares leading the way as they are greatly undervalued. The economics for gold mining are now the best they have been in many years. This could be a once in a lifetime buy for gold shares. But our concerns are still with the underlying economics of the world economy holding enormous amounts of debt. We could see a pause or decline in precious metal related investments but expect prices to rise considerably in the long term.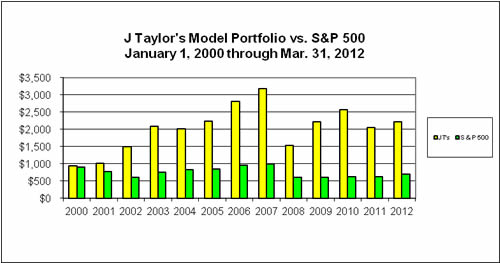 Our March 31, 2012 Model Portfolio
Our Low Budget/Low Maintenance Model Portfolio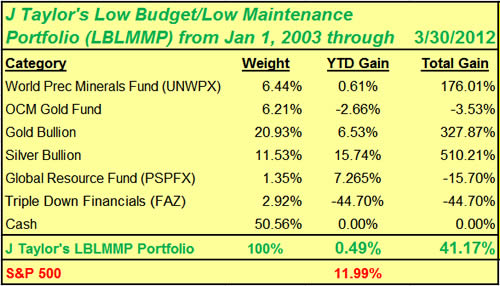 Year 2000 marked the beginning of a secular bear market in stocks that we think will last 15 to 20 years. We constructed our Model Portfolio on January 1, 2000, because we believed a secular bear market in stocks was born. Because gold and gold stocks are negatively correlated with the market in general, gold and gold shares are the backbone of our Model Portfolio.

How Are Returns for Our Model Portfolio Calculated?

Our Model Portfolio is a hypothetical portfolio. That is to say, we do not run an actual portfolio exactly like the one we use as our Model Portfolio. In its construction, we apply the following methods and assumptions:

Various sector allocations are chosen including producing gold and silver stocks, gold and silver exploration stocks, inflation hedge stocks, such as energy (including uranium mining stocks) and base metal mining stocks, as well as "essential technology" stocks. (We define "essential technology" as those companies that can reduce the cost of producing the most basic life-sustaining products, such as water, energy, and food.)

At the start of each year, a portfolio allocation is made for each of these sectors as well as an equity hedge sector.

It is assumed that each stock within each sector is equally weighted at the start of each new year.

The total gain for a given sector is simply the sum of all the gains and losses, divided by the number of stocks in that sector. The percentage of gains or losses of each sector is then multiplied by its respective weighting, and the sum of the various sector performances is the Model Portfolio's performance.

Gains are not annualized. So, for example, a stock that was recommended on December 1 and gained 100% by the end of the year enhances returns no more than a stock that gained 100% over 12 months. The Model Portfolio's gain or loss for each year is simply the total of gains for each sector, times the respective weighting of each sector.